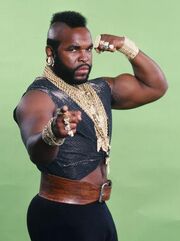 Bosco Albert "B.A." Baracus
Bosco Albert "B.A." Baracus is a character from the TV Series, A-Team, portrayed by Mr. T, and by Quinton 'Rampage' Jackson in the 2010 film version.
About Him
Little is known about his children other than being called Scooter as a kid, which he hated for a long time. Along with his group, Hannibal Smith, H.M Murdock, and Templeton "Faceman" Peck, was wrongfully convicted of a crime during the Vietnam War (Iraqi War in the 2010 film) none of the group had nothing to with. Trained as a Special Force Agent, Baracus and his group escaped and fled to Los Angeles, where they become a mercenary group known as the A-Team. While the B.A. stood for his name, many viewers prefer to the initial means, Bad Attitude, and despite his flaws, people quickly learn the reason behind the initial.
His Hero Traits
Baracus is highly skilled driver, likely due to being a strict teetotal, one who abstain from alcohol.
A skilled mechanic, Baracus is known to use the simplest of items to construct complex weaponry.
Baracus is trained in hand-to-hand combat, apart from being with weaponry.
When he doesn't have to dealt with his phobias, Baracus refuses to stand down and take actions sometimes before asking questions.
His Flaws
Despite his no-nonsense attitude, Baracus has some flaws.
His fear of flying is well-known throughout the series
He is also prone to sea-sickness, yet the problem could be on land since Baracus was trained to disarm bombs, even underwater.
He has the rarest blood type, AB negative, forcing to rely on Murdock, who has the same type.
Trivia
Baracus often takes offense if someone else tries to drive his customized van.
Galley
See Also
Community content is available under
CC-BY-SA
unless otherwise noted.